2023 Rencontres Musicales Internationales d'Aigues-Vives
L'Art Brise le Silence ! (Art Breaks the Silence!)
Live music painting performance of Shostakovich's Viola Sonata opus 147, with Judith Ingolfsson (viola) and Vladimir Stoupel (piano) in Aigues-Vives, France, on 16 September 2023.
Alan Mercer, Editor-in-Chief of the DSCH Journal, a regular publication dedicated to the life and work of composer Dmitri Shostakovich, has been active in reviewing, documenting and promoting Shostakovich's works and its performers for many years. Based in the Montpellier area of Southern France, he took on the idea of initiating an annual festival, to include the works of Dmitri Shostakovich, and the first of these will take place from 15–17 September 2023. For this first event, Musical Encounters in Aigues-Vives, Alan Mercer will collaborate with the international festival Aigues-Vives en Musiques organised by violinist Judith Ingolfsson and pianist Vladimir Stoupel. Anticipating the 50th anniversary of the death of the composer in September 2025, Alan Mercer's aim is to celebrate this jubilee year with an even more substantial festival to celebrate Shostakovich's works, through a multidisciplinary lens (music, art, cinema, conference, exhibition). As LiveART Foundation we will support the Musical Encounters through direct financial participation, and through the acquisition of sponsors for this event. Artist Maryleen Schiltkamp will take part in these days around Shostakovich in Aigues-Vives with a performance of live music-painting of Shostakovich's Viola Sonata, opus 147, in collaboration with Judith Ingolfsson (viola) and Vladimir Stoupel (piano) on 16th September 2023.  
Video-clip of the live performance  
2023 Stravinsky's RITE in Riga
musicpaintingLIVE performance of Stravinsky's The Rite of Spring as part of a programme 'AWAKENING' by pianist Reinis Zariņš, 17 June, Hanzas Perons, Riga. (See Press release: Awakening – Atmošanās). As a music painter, Maryleen Schiltkamp has collaborated with various musicians internationally, but the core of her live painting performance art was created in artistic partnership with the Latvian pianist Reinis Zariņš. In this collaboration – musicpaintingLIVE – the pianist and the painter co-author visual creations that combine live music with painting on canvas, following the musical movement and the colour of sound directly on stage during a concert. Reinis Zariņš and Maryleen Schiltkamp are known for their unusual programmes, with a repertoire including Bach/Busoni, Chopin, Franck, Ravel, Messiaen, Medtner, Gubaidulina and Shostakovich. They have performed at festivals including in London (Baltic Art Form), Amsterdam (Winteravonden aan de Amstel – Hermitage) and CĒSIS Concert hall in Latvia. The next musicpaintingLIVE concert performance will be in Hanzas Perons in Riga (Latvia) with a striking concept of Stravinsky's The Rite of Spring as part of the programme Awakening by Reinis Zariņš in June 2023. The LiveART Foundation will be involved in the production of The RITE.
Concert-video, 17 June @Hanzas Perons, Riga
2023 CD Alexander Kraft van Ermel
The LiveART Foundation supported a funding project for the recording, editing and production of Alexander's new CD of works by his grandfather, Wim Statius Muller (Antillean Dances) and Frederic Chopin. Recently, the online release of the album "Antillean Heritage" by Alexander Kraft van Ermel was launched, making the recording available on all major platforms, and available for digital purchase on amazon and Apple ao. Congratulations, Alexander!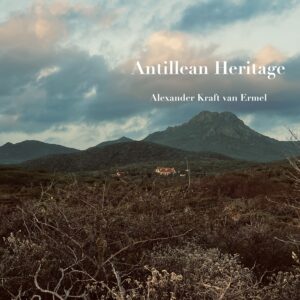 2023 Alexander Kraft van Ermel: Prokofiev & Barber
Live music painting project with Maryleen Schiltkamp.
Currently in rehearsal is a live music painting project on Prokofiev's Sonata No. 7, opus 83 by pianist Alexander Kraft van Ermel and music painter Maryleen Schiltkamp. This Sonata belongs to Prokofiev's 'War Sonatas' and demonstrates a combination of destruction and life forces, to which Schiltkamp paints visual impressions on the canvas, following the musical movement and the colours of sound. The music is universal, but in this time of the Russian war against Ukraine, the reality we experience has exceptional impact. After the merciless Prokofiev, the programme features Barber's Excursions, opus 20, with 4 short pieces in an American idiom, with folk-melodies, a barnyard dance, boogie-woogie and blues, evoking an easy-going atmosphere but cast in a classical style that sets the bar high for the pianist and the painter.
2024 Commission for Marion von Tilzer - Atlantis
The LiveART Foundation commissioned Marion von Tilzer to compose a  piece on the theme of Atlantis in relation to the Atlantis series of oil-paintings by Maryleen Schiltkamp. For the assignment, Marion suggests a composition of 25 minutes for a Trio (e.g. piano, viola, clarinet) as a Suite: for instance 5 compositions en suite about Atlantis; connected to Maryleen's 'Atlantis' paintings: Deluge – Heracleion – Amphitheater – Noah – Caryatides.
In addition to this assignment, the LiveART Foundation will also organise a concert with Marion von Tilzer, in which she will perform her Atlantis Suite composition as a Trio, with an exhibition of Maryleen's Atlantis paintings as well as live music painting by Maryleen of some parts of the Suite during the
concert.
2023/24 DVD The Art of the Symphony
Plans to produce a DVD of the documentary film The Art of the Symphony (2017)
Filmed and directed by Alan Mercer.
Live music-painting by Maryleen Schiltkamp
Synopsis: Filmed in Prague, The Art of the Symphony alternates between the creation on canvas of a major Shostakovich work and footage of Prague both during the Communist era and the present-day reminders of those complex times. Within these images, the main theme of the film – freedom from oppression – is related through a humanitarian, rather than political standpoint, where the individual, the human soul, strives to rise above earthly conflict. Shostakovich's Fourth Symphony is at the heart of these notions.